I'm trying to decide on three movies in my life that I particularly like, but I've only decided on two yet. One is Fight Club. The other one is this!!!!
I've seen a lot of movies, but there is one that I can't help but watch over and over again!
This time it's one of them!
Whiplash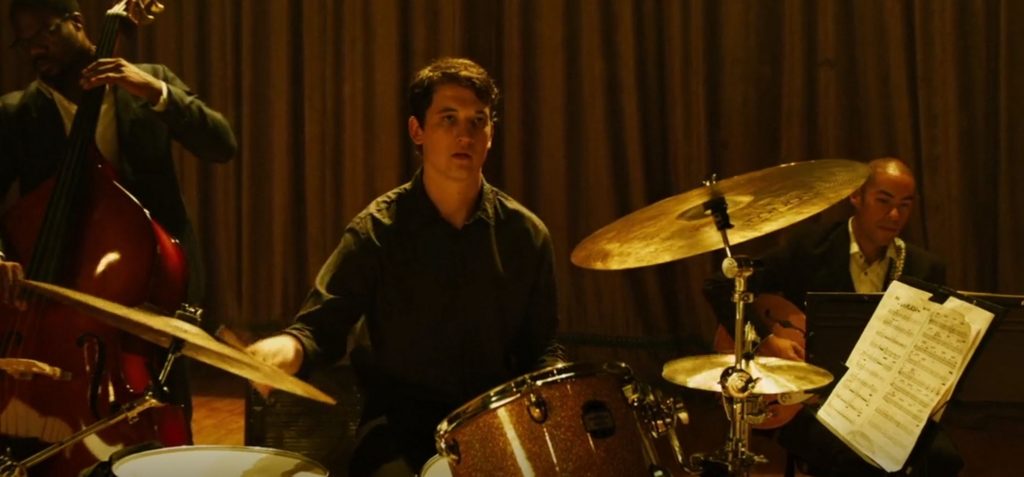 Overall, the orange-painted image is very beautiful and looks like America in the 30s.
I'm going to write about this in this post! Let's start with the characters. It is not an exaggeration to say that these two are the only ones.
Part 1.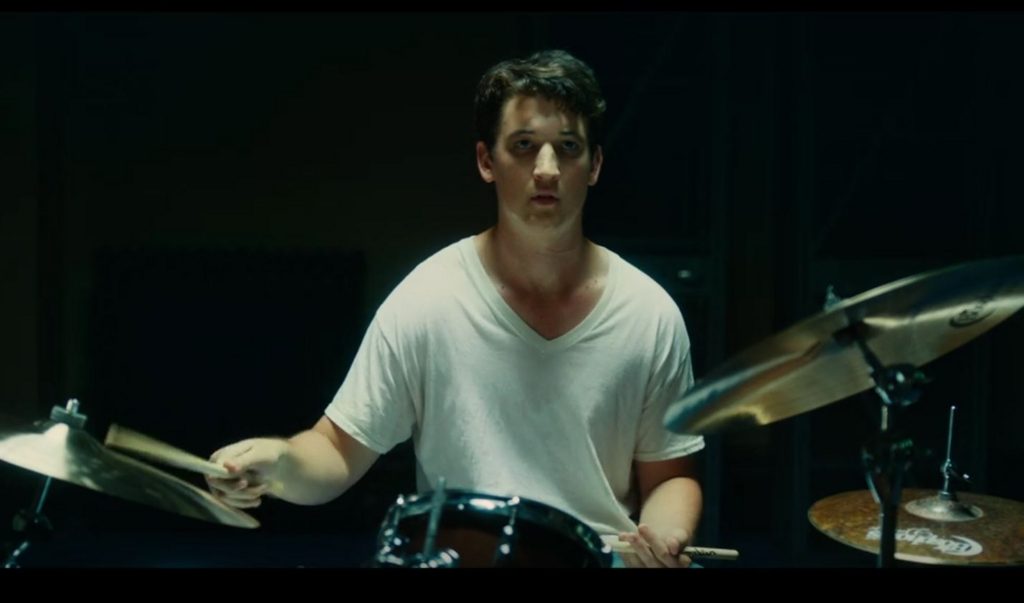 主Protagonist Andrew Neiman – (played by Miles Teller)
119-year-old jazz prodigy drummer.
It's seriously good. She has just gone on to the best music school in America, the Shaffer School of Music. It's not quite as cool as it looks.
Part 2.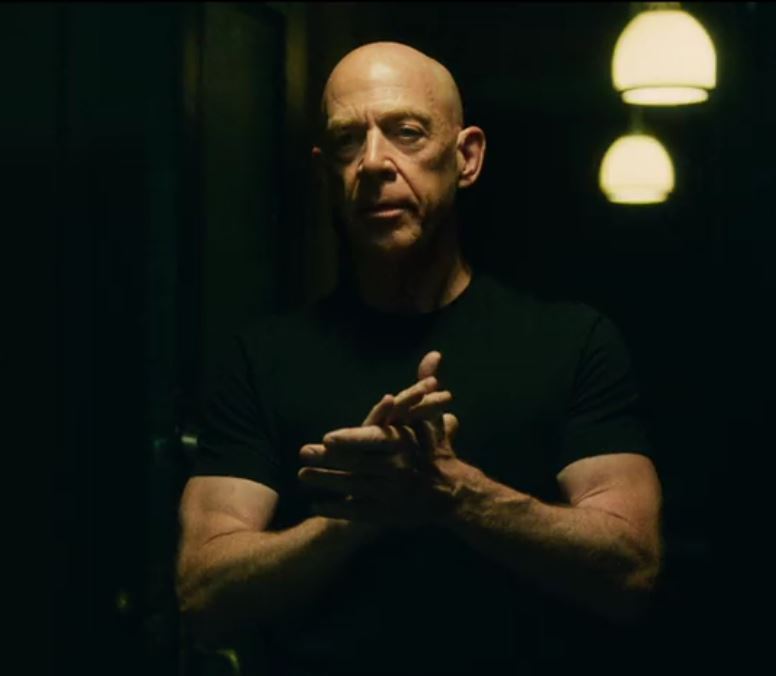 Terrence Fletcher – (played by J.K. Simmons)
He's renowned as one of the best conductors in the Schaefer School of Music.
He recruits the protagonist to a jazz band he conducts (one of the top in America).
Incidentally, the actor was the editor-in-chief of the old Spider-Man. Reading this alone, I tend to think it's a heartwarming story about a genius drummer who grows up with a genius conductor.
But look at the original title.
Whiplash
It's not such a florid storyline. In fact.
A violent conductor vs. a hard-working drummer
is. For example, if you make a mistake, I'll throw a chair at you and mentally force you to do so.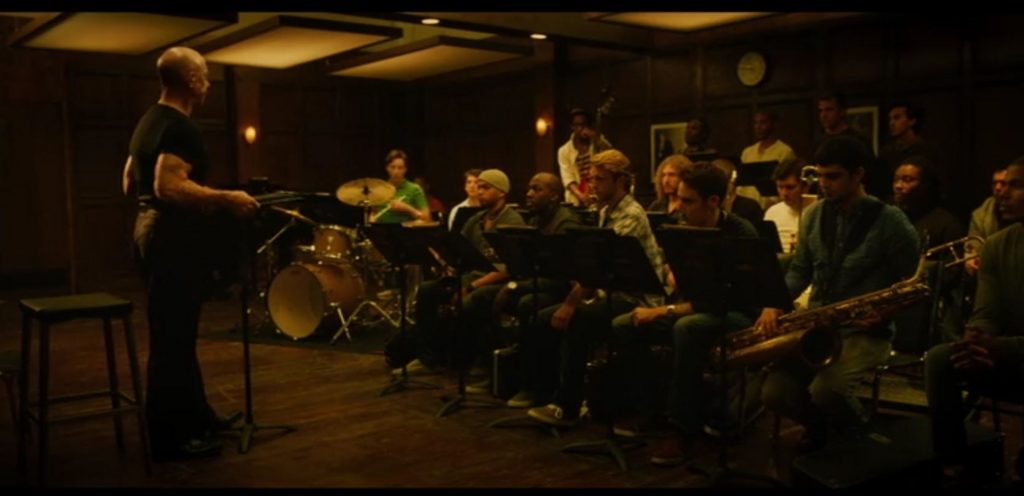 You can see how the main character is doing.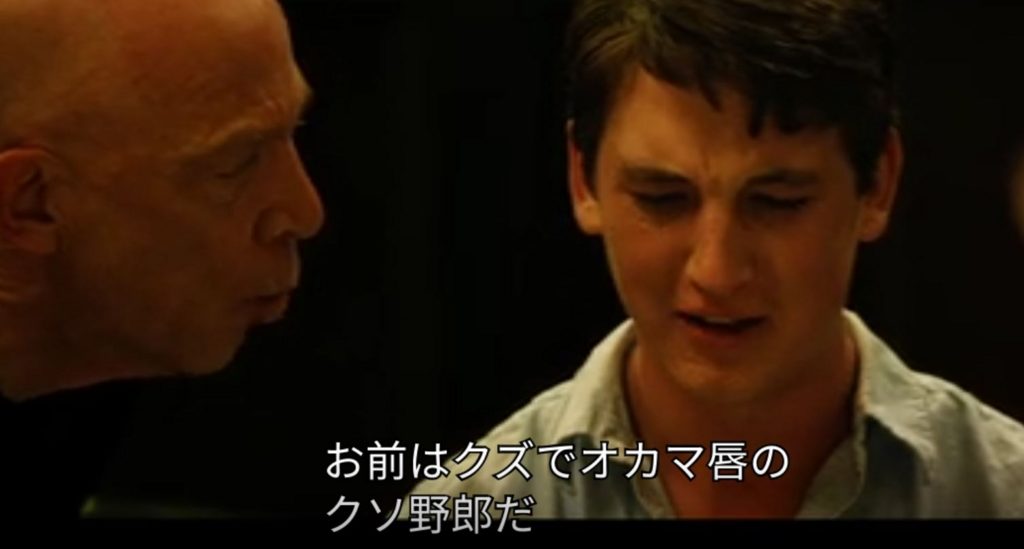 Yes. So much for that. It reminds me of music lessons in elementary school. I was so scared of the teacher. But the main character is as good as it gets. I'm not wincing! I'm not going to let you down!
I practice so much that my hands get bloodied. Great. You're a genius at hard work.
Well. After this, the main character wins his teacher's trust and becomes a regular, and it doesn't end with a happy ending. The protagonist is also single-minded and doesn't know how to stay there.
I wonder what is going to become of the two of them.
So far, the introduction. Here are my impressions.
To be honest, I've seen this movie six times. There are fewer lines than in the other films, mostly the jazz music they play. That's also how clever it is. I never get bored listening to it and watching it. It moves the story along nicely.
Furthermore, the main character's single-mindedness makes me want to follow his example. I want to cram in whatever I want like that way, and I want to get those feelings back, too. It makes me feel nostalgic somehow.
And he's a great teacher! It's a serious asshole, but it's cool. Stick to what you believe in. It's the same as the main character. He has a great attitude towards the music he loves.
The last nine minutes of the movie. I'm sure you'll feel elation and a sense of needing to accomplish something!